Trafalgar Square Facade Renovation, Greenacres, FL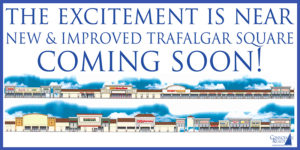 Commodore Realty, Inc. is excited to announce a facade renovation at Trafalgar Square Shopping Center in Greenacres, FL! The new facade looks to the future but also respects the history of this building and the City of Palm Beach.
The notable tenants at the property include Supermercados El Bodegon, Dunkin' Donuts, Carvel, AutoZone, CVS Pharmacy and more. We encourage everyone to come, check out and patronize all of these tenants.